We're celebrating Biketober the full month of October with plenty of prizes and resources to help you find more ways to commute and explore your community on two wheels. Starting Monday, October 3, and ending October 31, you'll be able to log your trips for a chance to receive a $50 REI gift card each week! Don't own a bike? That's okay – Capital Bikeshare can help you start moving with over 5,000 bikes across the region, including e-bikes, to help you go the distance.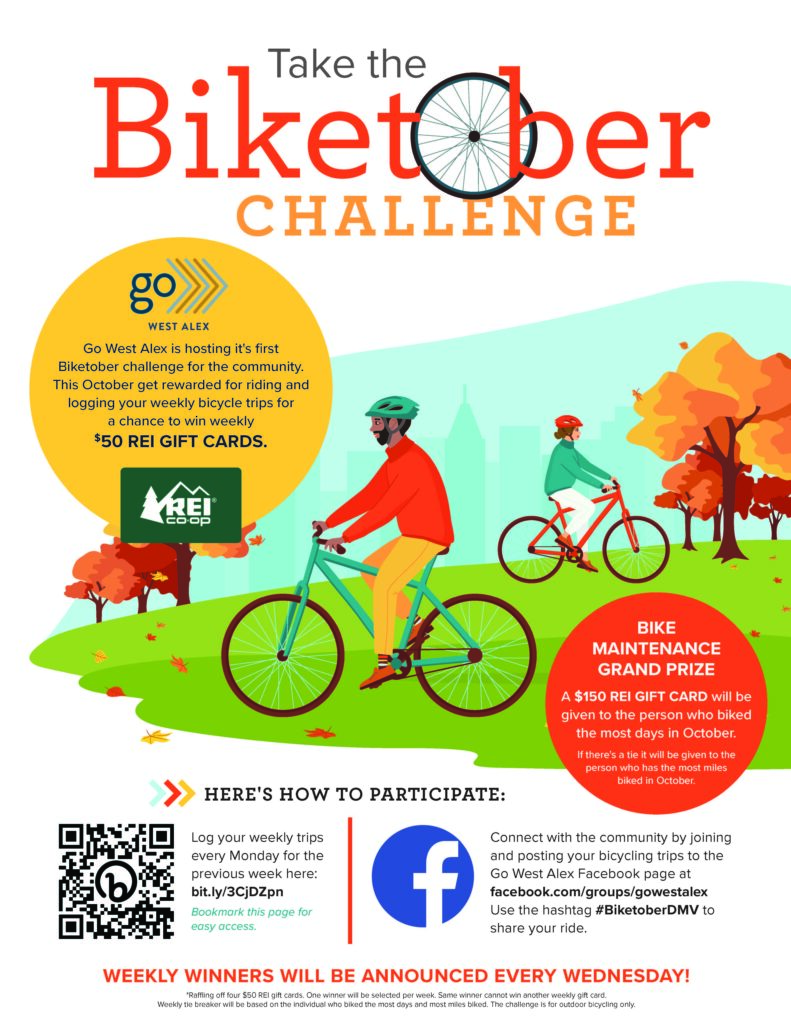 How Do I Participate in Biketober?
Each week during the month of October you'll receive an email with a link to a form where you can log your bike trips from the past week (Monday – Sunday). Miss an email? You can also bookmark this page to access the form when it's time to log your trips.
What Are the Prizes?
By participating in Biketober, you'll have the opportunity to receive great prizes that will help you keep riding all year long.
Each week, the person who logs the most bike trips from Go West Alex will receive a $50 gift card*
The participant who logs the most miles ridden during the month of October will receive a $150 gift card to receive a free bike tune-up, courtesy of REI
*Individuals can win the weekly prize only one time. If an individual who has previously won the weekly gift card logs the most miles a separate week in October, the prize will go to the person with the second most bike trips logged. All prizes will be provided at the end of the month once all participants have had a chance to win big!
What Biking Resources Are Available to you?
There are plenty of resources available to help you bike to work, to the grocery store, or on the trails. Each weekly email during the month of October will include helpful tips and resources to make getting to your destination by bike easy and enjoyable. Here's a few to help you get started:
Start Biking Today!
Are you ready to start biking? It's time to dust off your bike, find your nearest Capital Bikeshare station, plan your route, and start pedaling because Biketober begins Monday, October 3! Bookmark this page so you can log your trips each week and receive prizes all month long.
FAQ
Q: Can I ride an indoor bike for this event?
A: No, you can only ride your bike outside for this event.
Q: How many winners?
A: There will be one winner from Go West Alex per week (4 weeks) during the month of October. Additionally, one grand prize winner will be announced at the end of the month.
Q: What if two or more people log the same number of trips for the week?
A: The tiebreaker will be determined by who rode the most miles.
Q: How do you log your trips?
A: We will have a link to a Biketober form (such as the one above) to enter how many bike trips you have taken throughout the week.
Q: When will the winners receive their prize?
A: The weekly prize will be announced every Wednesday. The winner will receive their prize later that week of the announcement. The grand prize winner will receive their prize the first week of November.