Bike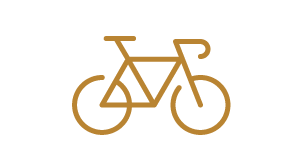 Biking to and from West Alex is easy with bikeshare and multiple trails nearby. Take a Capital Bikeshare bike from the docking station at N Beauregard St and Berkeley St and ride for as little as 5 cents per minute to explore Alexandria and Arlington on two wheels.
At West Alex, you're less than half a mile from Lucky Run Trail, which connects to the Four Mile Run Trail (part of the larger Arlington Loop), and only 1.5 miles from the W&OD Trailhead.
Not sure how to start biking or want to feel more confident using Alexandria's bike lanes and roads? Check out bike classes and events hosted by the City of Alexandria and Washington Area Bicyclist Association (WABA). Alexandria residents receive free or steeply discounted pricing on all classes.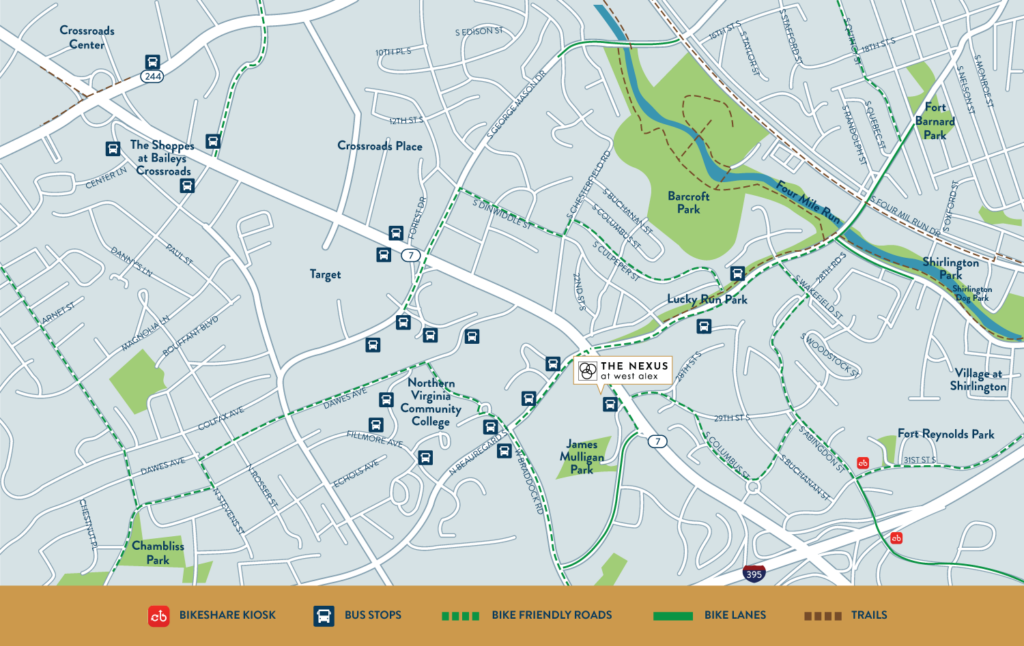 Capital Bikeshare
Capital Bikeshare is the Washington, DC region's bikeshare service, with 5,000+ bikes and 600+ stations. Alexandria is home to over 40 stations and growing!
Capital Bikeshare is great for one-way trips with docking stations near any destination and e-bikes that help you cover greater distance and tackle hills.
To start using Capital Bikeshare:
Visit your nearest Capital Bikeshare station at N Beauregard Street and Berkeley Street or find a bike using the Capital Bikeshare or Lyft app
Purchase in the app or by credit card at the Capital Bikeshare station kiosk
Lift your bike of choice out of the docking station by the seat and pull
Adjust your seat, add any items to the front basket, and bicycle to your destination
Dock your bike at any bikeshare station near your destination and wait for the light on the dock to turn green to finish your ride!
What does it cost to ride Capital Bikeshare?
Capital Bikeshare offers single trip, 24-hour, 30-day, and annual membership options. 30-day and annual memberships include all rides under 45 minutes and special discounts on e-bikes. To try Capital Bikeshare, a single trip will cost:
$1 to unlock a bike and $0.05 per minute on a classic (red) bike
$1 to unlock a bike and $0.15 per minute on an e-bike (black)
No Capital Bikeshare station where you're heading? You can lock a Capital Bikeshare e-bike to any public bike rack, instead of a Capital Bikeshare station, for only $2 extra. Ride Capital Bikeshare all year long for $95 with an annual membership, and take unlimited trips up to 45 minutes for free! Check if your employer is a corporate partner for discounted or free memberships.