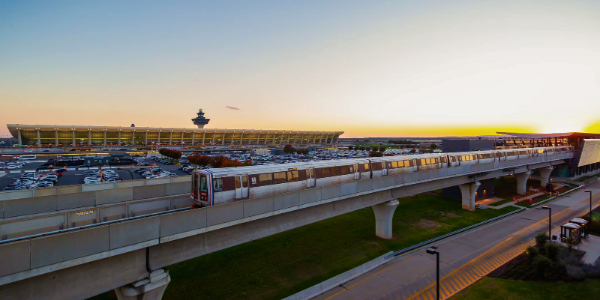 Source: UpgradedPoints.com
Getting ready to head to the airport or hit the road for your summer vacation?
Here are some tips for a smooth, efficient and low-cost trip!
Metro Service to DC's Airports
Flying out of Ronald Reagan National Airport (DCA) or Washington Dulles International Airport (IAD)?
DCA: Take the Blue Line toward Downtown Largo. From King St/Old Town Metro Station, Reagan National Airport is the third stop.
IAD: Take the Blue Line toward Downtown Largo. At Rosslyn Metro Station, transfer to the Silver Line toward Ashburn. Dulles International Airport is the next stop after Innovation Center Metro Station.
Regional Rail in Virginia and Maryland
Getting around Virginia and Maryland is a breeze with regional rail options.
Virginia Railway Express (VRE) is a regional commuter rail system with two lines that only operates on weekdays. VRE can take you to destinations like DC, Lorton, Spotsylvania, Manassas, Fredericksburg and more. One-way tickets can be purchased at VRE stations or through their mobile app. VRE will be providing free service on Fridays this summer.
Maryland Area Regional Commuter (MARC) can be used to travel from Union Station in Washington, DC to various locations in Maryland including Baltimore-Washington International Airport (BWI), Baltimore and Aberdeen on the Penn Line. Riders can access destinations like Laurel, Jessup and Camden Yards on the Camden Line. The Brunswick Line can be used for destinations like Gaithersburg, Germantown and Harpers Ferry, West Virginia.
Metro Service to Amtrak Stations
Catching an Amtrak train at Alexandria or Union Station?
Alexandria Station: Ride DASH Bus Line 31 to King St/Old Town Metro Station. Alexandria Station is next to King St/Old Town Metro Station.
Union Station: Ride the Blue Line to Metro Center and transfer to the Red Line toward Glenmont. Union Station is the third stop after you transfer to the Red Line.
Planning a Road Trip? Try Amtrak's Auto Train
Road-tripping down the east coast? Try Amtrak's Auto Train instead!
The Auto Train allows you to load your vehicle on the train so you can use it at your destination without adding the wear and tear of a long drive.
Auto Train operates between Lorton, Virginia and Sanford, Florida.
Most Importantly, Have Fun!
We hope that your summer travels are free of stress and delays! If you have any specific questions, the Go West Alex Team can be reached at Info@GoWestAlex.com.